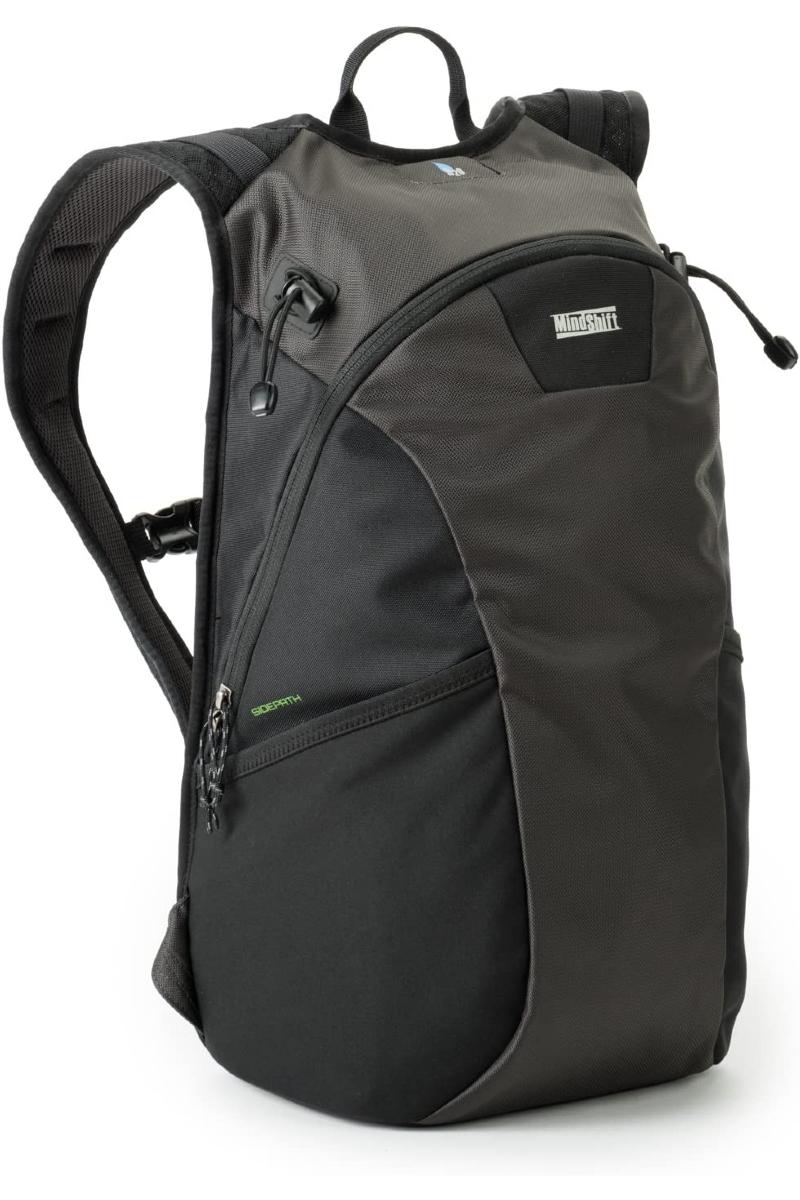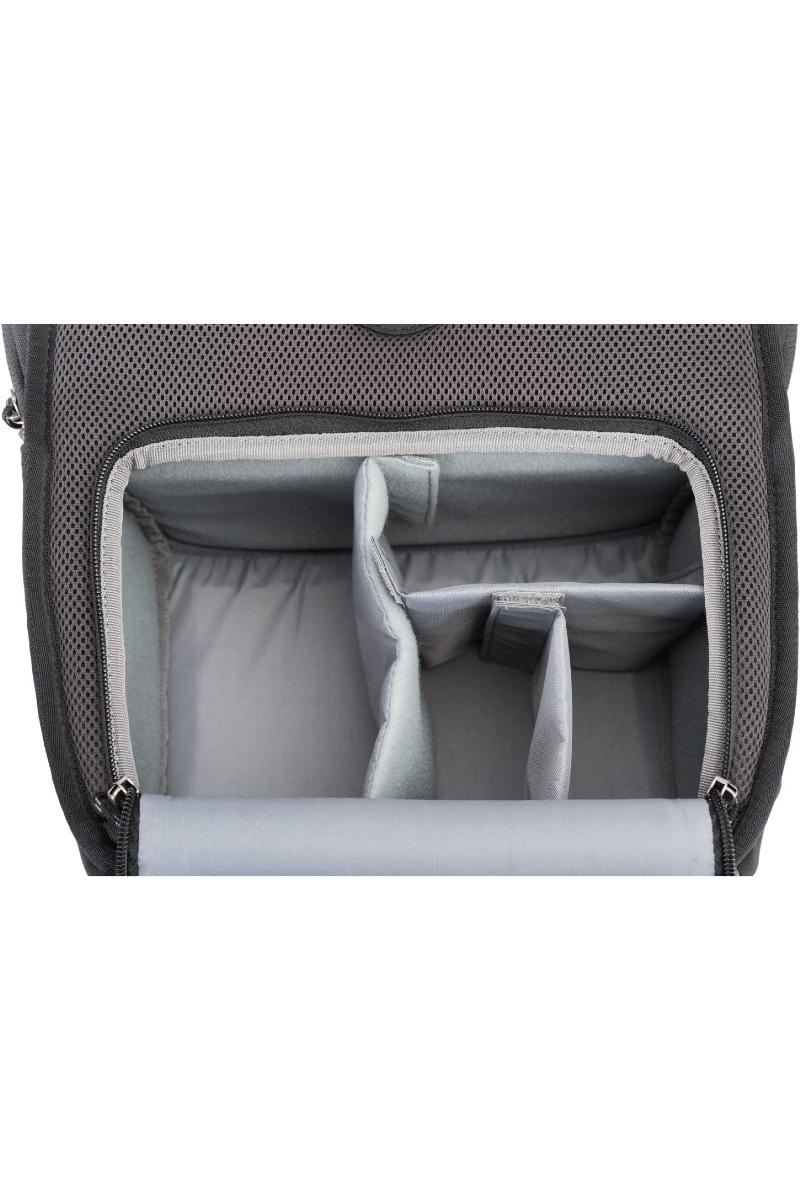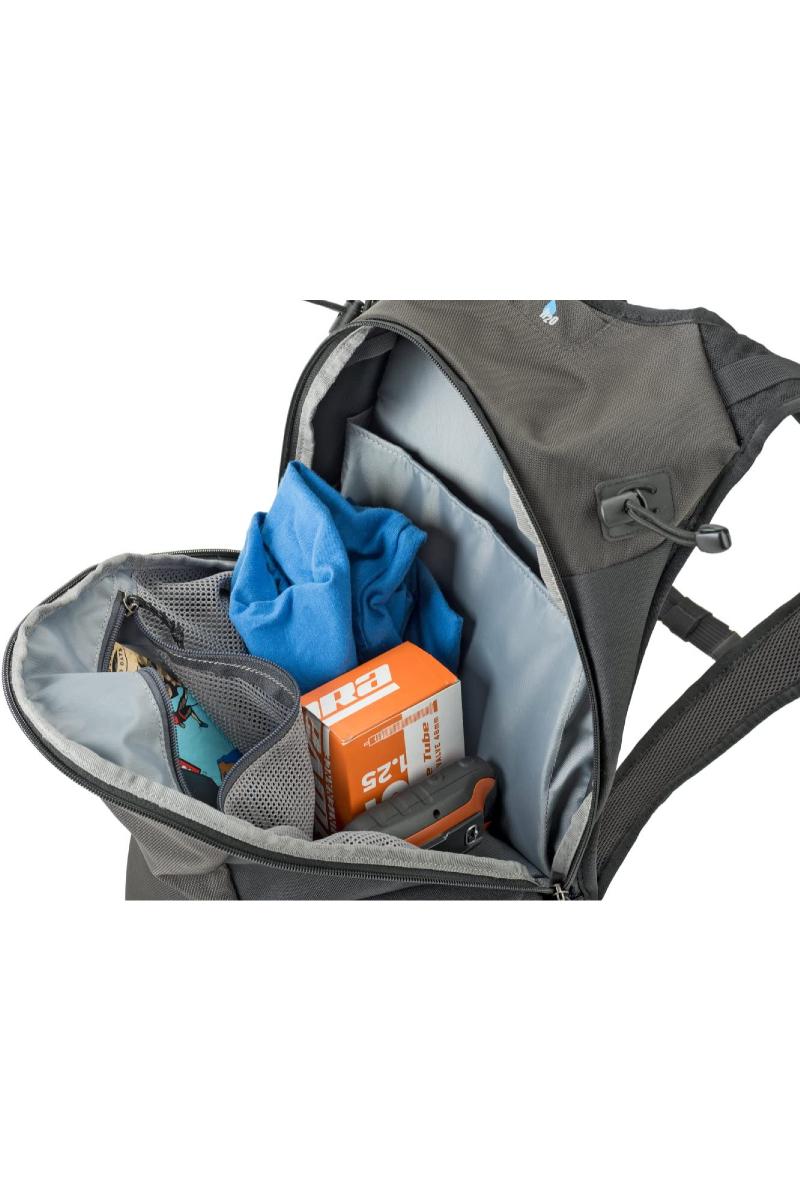 Think Tank Mindshift Gear SidePath Charcoal
( )
★
( )
★
( )
★
( )
★
( )
★
(0)
NOK 1199.00
Availability:

Only 2 left in stock!
The charcoal SidePath Backpack from MindShift Gear is a versatile bag that offers two, user-selectable configurations. The 14.0L main compartment features an adjustable partition system that creates a camera compartment towards its bottom which can fit up to a medium-sized DSLR along with one or two lenses, or a medium-sized DSLR with one lens and a flash. Users of mirrorless camera systems can fit up to three lenses along with a camera, plus a flash and back-up camera. The 8.0L space created above the camera, lenses, or flash can accommodate books, documents, a lunch bag, or a light jacket. Toward the rear of the main compartment is a pocket that holds a 10.0" tablet computer or a 1.5L water reservoir, above which is an exit port for an attached drinking tube. Opposite the tablet, computer, or water reservoir pocket is a zippered, mesh organizational pocket for items that need to be accessed quickly and conveniently in the main compartment.
Key Features
Two-in-One Camera Bag and Daypack
Holds DSLR and 1 to 2 Lenses
Holds Mirrorless Cameras, Lenses, Flash
Secure Rear-Panel Camera Access
Padded Touch-Fastened Interior Dividers
10" Tablet / 1.5L Water Reservoir Pocket
Organizational Pocket
2 Bottle Pockets/Tripod, Monopod Holders
Cord Locks for Tripods or Monopods
Weather-Resistant Exterior, Rain Cover
While it is in use, three adjustable and removable dividers allow the camera compartment's space to be configured according to the specific equipment being carried within it. Access to the camera compartment is provided by a zippered panel that faces the wearer's back, helping to minimize the potential for theft. When the SidePath Backpack is not being used to hold a camera system and a more traditional daypack is needed, the partition creating the camera compartment can be moved for uninterrupted access to this bag's 14.0L volume.
The SidePath Backpack can be carried using its built-in top handle, or by its adjustable, padded shoulder straps which along with the outside rear surface, features a resilient and breathable 3D mesh padding that cushions the wearer's back and shoulders. The padding's elevated structure optimizes air circulation, minimizing perspiration in warm and hot environments. For heavy loads, this backpack's adjustable sternum strap can be used to more evenly distribute the weight being carried. Along both sides of the SidePath Backpack are two large, stretchable pockets that can each hold a 32oz water bottle. Alternatively, the pockets can be used to hold a tripod, monopod, or trekking pole; which can be secured using a cord lock located above each pocket.
Featuring a durable nylon and polyester construction, the SidePath Backpack is built to be weather-resistant and also includes a seam-sealed cover for use under heavy rain.
Adjustable partition system allows configuration as a 14L daypack only or as a camera bag with a dedicated compartment for photo equipment
Camera compartment fits up to a medium-sized DSLR along with one to two lenses, or a medium-sized DSLR with one lens and a flash
Camera compartment fits up to two mirrorless cameras, three lenses, and a flash
Three padded, touch-fastened removable dividers allow the camera compartment's space to be configured according to the specific equipment being carried within it
Access to camera compartment is provided by a zippered panel that faces the wearer's back, helping to minimize the potential for theft
8.0L of space created by partition system above a camera, lenses, or flash can accommodate books, documents, a lunch bag, or a light jacket
10.0" tablet computer or a 1.5L water reservoir pocket, above of which is an exit port for an attached drinking tube
Zippered, mesh organizational pocket for items that need to be accessed more quickly and conveniently apart from anything else in the main compartment
Can be carried using a built-in top handle, or by adjustable, padded shoulder straps
Shoulder straps and back surface feature a resilient, as well as breathable 3D mesh padding which cushions the wearer's back and shoulders
Mesh padding's elevated structure optimizes air circulation, minimizing perspiration in warm and hot environments
Adjustable, sternum strap can be used more evenly distribute the weight being carried
Two large, stretchable pockets each hold a 32oz water bottle, a tripod, a monopod, or a trekking pole
A tripod, a monopod, or a trekking pole can be secured using a cord lock located above each pocket
Durable, weather-resistant nylon and polyester construction
Seam-sealed cover for use under heavy rain
Specs Water Resistance Rain Cover included Maximum Volume 14 L
Reviews